Supporting artists and encouraging democracy and collaboration.
Our Associate Artists programme is designed to support artists, helping them to create new work by offering them funding, space and mentoring. Our Associate Artists play a key role in the organisation, attending team and board meetings and informing decision making and strategy.
There are 12 artists appointed for 2022, working in disciplines from poetry to theatre, dance, drag and aerial. You can find our more about them below.
Adam Kammerling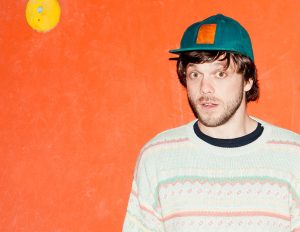 Adam Kammerling is an award-winning poet, interdisciplinary artist and educator.
His most recent works include Seder, his debut poetry collection which was a finalist in the National Jewish Book Awards, Shall We Take This Outside, a three-person spoken-word/dance theatre piece that toured nationally, and Inside!, a piece of poetry/rave theatre commissioned by Centrepoint and the Saatchi Gallery.
A highly experienced educator, he has created poetry-based theatre with emerging poets, musicians and circus practitioners at the Roundhouse, the Albany and Pentonville Prison. He is the creative producer of The Nest, an arts education program for young people at the Fostering Network.
Follow Adam on Twitter and Instagram
"The Albany's community-focussed, inclusive program makes it one of my all-time favourite venues. I'm thrilled to be an Albany associate artist in 2022 and look forward to creating new work with their amazing community."
Afrikan Boy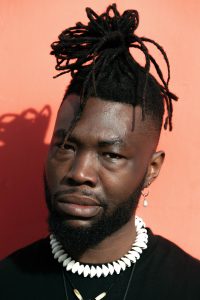 Olushola Ajose, performing under the moniker Afrikan Boy (AB) came to attention as a teenager, with the unforgettable smash One Day I Went to Lidl. The grime infused track, a humorous ode to the discount supermarket, caught the ear of fellow British rapper, visual artist and activist M.I.A that led to guest appearances in her critically acclaimed and Grammy nominated album Kala (2007).
I'm Excited, a later collaboration with US hip hop veteran DJ Shadow, was crowned 'Hottest Record in the World' by aficionado Zane Lowe.
Follow Afrikan Boy on Instagram
Angela Clerkin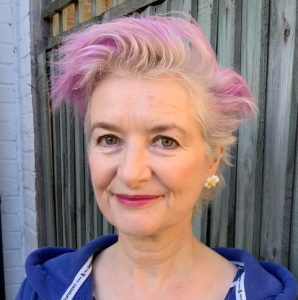 Angela Clerkin is a Theatre Maker, Director and Facilitator. Last year she was an Artist of Change at the Albany and curated the Festival of Radical Care. The month-long festival featured collaborative events with many of the Albany's resident companies including Rezon8, Meet Me, Spare Tyre and Sounds Like Chaos, in addition to Angela leading LGBTQ+ drama workshops, and hosting a queer cabaret.
In 2021 Angela was also a Creative Fellow at the University of Leicester and ran creative writing courses around the theme of Identity in collaboration with the psychology department.  She is an Improbable Associate Artist and has performed in many of their shows including Panic, LifeGame, Animo & Cinderella. Currently she is the Associate Director on An Improbable Musical at Royal Theatre, Northampton.
Follow Angela on Twitter
Camille Dawson
Camille Dawson is a critically acclaimed comedy writer, performer and director. She is the founder and Artistic Director of Frisky Arts and has written and performed in original theatre pieces (PUSSY, Girl World, Night on Boob Mountain), carving out a multi-art, absurdist and comedic style.
She is motivated by writing rebellious, heartfelt and hilarious scripts with honest female experiences at their heart. Her work has been described as "genius" (Broadway Baby), "comedy gold" (The Authentic Project) and "universally relatable" (A Younger Theatre).
"I'm delighted to be an Albany associate artist and am very much looking forward to the year ahead. I will not only get the chance to develop my first solo production but also build a network of other inspiring artists from diverse disciplines but also connect with such an amazing arts venue."
Follow Camilla on Twitter
ESKA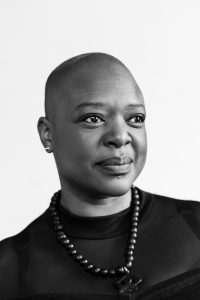 ESKA is a London-born British singer-songwriter and multi-instrumentalist. The Zimbabwean born, SE-London raised performance artist, composer and producer is a creative force to be reckoned with.  ESKA's list of collaborations over the course of her career is as bravely diverse as her music itself; Grace Jones, Zero 7, James Lavelle's UNKLE, Tony Allen and fashion designer Rick Owens, to name a few!
ESKA has wowed crowds everywhere from Glastonbury Festival to London's Roundhouse.  With credits on over 150 released titles, including contributions to 3 Mercury-nominated albums, her eponymous debut was subsequently nominated for the Mercury Music Prize in 2015.
Follow ESKA on Twitter
Farrell Cox
Farrell Cox is a Black British physical actor, aerialist and theatre maker performing nationally and internationally. As a performer Farrell uses versatility as a dancer, clown and aerialist to captivate the audience. Farrell's aim is always to tell the truth within a narrative, not shy away from the harrowing parts but allow the lightness and humour to be brought forward.
"I am very excited to embark on this journey as an associate artist evolving my creative voice and engaging with the community."
LoUis CYfer (LJ)
LJ is a London-based non-binary actor from Yorkshire who trained at MMU and Brunel where they obtained an MA in Contemporary Performance Making, specialising in gender and identity.
Since graduating, LJ has stormed the UK Drag scene as DragKing Cabaret artiste 'LoUis CYfer', becoming the first and only DragKing to win the Drag Idol title in 2014. They perform full time around the UK and have travelled the world, introducing different audiences to the world of DragKings through performing, leading workshops and mentoring in the UK, Malta, Texas and Australia where they opened the 50th anniversary Mardi Gras pride in Sydney.
"I can't put into words how thrilled I am to be working with the Albany this year as an associate artist. It's been a difficult couple of years filled with uncertainty and anxiety for us all; unsure of our place in the world as contemporary artists.  I am honoured to have the Albany's support to try and change that, to make decisions that will hopefully bring about more financial security and creative expression to the theatre and its community. I can't wait to explore how I can use cabaret and theatre skills to explore the digital metaverse and beyond!"
Follow on LoUis on Facebook, Instagram, Twitter and Snapchat
Natasha Sutton-Williams
Natasha Sutton Williams is an award-winning writer, composer, and actor. Her musicals and plays have been produced at multiple London venues including the Pleasance, Arcola Theatre, Southwark Playhouse, King's Head Theatre, and VAULTS. Her LGBTQ+ and disability activism drives all her work.
She recently adapted her stage play Clown Sex into a 6-part comedy horror podcast series, which will be released in Spring 2022. At the Albany, Natasha is developing Lesbian Pirates! which has been funded by the Southbank Centre, Paul Hamlyn Foundation, Unlimited New Wolsey Theatre, artsdepot, Musical Theatre Network, Unity Theatre Trust, and the Canadian Embassy.
"I'm so excited to be working alongside such a talented cohort of artists. From aerialists to drag kings, I can't wait to learn from these myriad artists' practices and see how our different theatrical crafts can influence each other's work."
Follow Natasha on Twitter
Quang Kien Van
Quang works as a choreographer, movement director, film-maker and teacher. He has staged work at the Royal Court and has led workshops and courses for organisations such as Mountview Academy, Scottish Dance Theatre and New Earth Theatre. In 2019 he was awarded an MGCFutures Bursary to develop a new stage work entitled Babylon and he has performed as dancer in productions nationally.
"I'm delighted to be part of this exciting cohort of Associate Artists! And very much looking forward to connecting with local communities and audiences through my work in workshops, presentations and performances in this Zodiac year of the Tiger, and Lewisham's year as London Borough of Culture!"
Follow Quang on Facebook and Instagram
Thick & Tight
Thick & Tight was established in 2012 by co-directors Daniel Hay-Gordon and Eleanor Perry. Since 2012 they have been creating, curating and facilitating work for stage, screen and other spaces. Their work combines dance, lip-syncing, mime, drag and satire, and is inspired by a range of historical, political, literary and artistic subjects, often based on the lives of famous or infamous people. Thick & Tight are dedicated to producing insightful, exacting, accessible and entertaining work and using creativity to challenge and dispel social stigma.
"We are delighted to be associates at the Albany; we respect the ethos of the institution enormously. We hope that this next year shall enable us to align closer to them, both ethically and artistically, allowing for a new phase of learning as a small-scale company."
Follow Thick & Tight on Twitter and Instagram
Tyrone
Tyrone was UK Poetry Slam Champion 2020, former Roundhouse Poetry Slam Champion and Author of his debut collection 'Blackish'. Tyrone has worked across England with poetry in a variety of ways, including performing, teaching and peer mentoring. He was nominated as the editor's choice for Best Spoken Word Performer for the 2018 Saboteur Awards and was a semi-finalist in the 2020 World Cup Of Poetry.
"Being able to work with both an institution and a group of people who clearly have so much passion and love for being creative fills me with so much joy. I'm truly looking forward to what could be done as an Associate Artist"
Follow Tyrone on Twitter, Instagram, and Facebook
Zahed Sultan
Zahed Sultan is an award-winning multimedia artist, culture producer, filmmaker, and social entrepreneur of Kuwaiti-Indian heritage based in London. His works have been licensed for television, film, and exhibitions and he is influenced by reimagining tradition and recapturing nostalgia to craft a path of his own.
Zahed is the founder of a combined arts organization in the UK (COMMUN) and a social impact org. (en.v) in Kuwait. Zahed strongly believes in collaboration and has worked with emerging and recognized artists. He is particularly well-known for his live audio-visual-dance performances which he has performed internationally.
"The Albany has been home to my multi arts residency and performance program Haramacy since 2019, so it feels like a natural progression to now step into the role of Associate Artist and engage collectively with the space, team, and wider Lewisham community."
Follow Zahed on Twitter and Instagram