As we get geared up for our festive show, 'The Tin Foil Astronaut,' we have plenty to share of what is going on in the building…
On the weekend of 19 November, we had our flash sale on Deptford Market, selling half price tickets to local residents. We made our very-own tin foil helmet, had space-themed sweets and colouring sheets along with a rocket balloon that staff may or may not have played with throughout the day…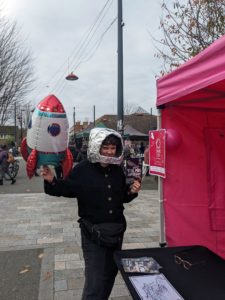 Albany staff at the market stall on Deptford Market.
The CaffA team has been active in making the hot food, snacks and drinks as festive and spacey as we can possibly make them. Expect plenty of creative names, puns and delicious treats made with all local Lewisham suppliers.
Yesterday was also a special day at the CaffA as A Little Cup Tea released their newest tea, the Al-brew-ny tea – a collaboration with Meet Me at the Albany members! The tea is a blend of a multitude of flavours, with mango, pineapple, chilli and ginger. What makes this launch even more special is that A Little Cup Tea will be donating £1 of every purchase to the Meet Me programme, and so will we. Shop online here.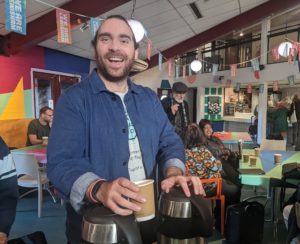 George from A Little Cup Tea pouring samples of the new blend as part of the launch.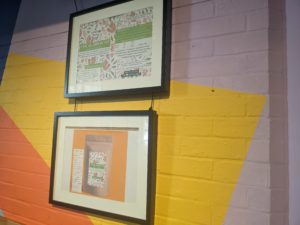 Part of the exhibition showing the process of creating the tea, hung up on the CaffA walls.
Before we welcome our school visitors, the Albany staff will be gathering to make all sorts of decorations to put around the CaffA, and even on our Christmas tree. Sustainability is very important to us as well as one of the themes of the show, so much of what we will be making will be upcycled. There will also be eco cardboard rockets for our school visitors to tell us their thoughts as well as colouring sheets for members of the public.
The Tin Foil Astronaut will be at the Albany from Saturday 3 to Saturday 24 December. For more information and to book, click here.