With alumni including Moses Boyd, Nubya Garcia and Ezra Collective, renowned talent development organisation Tomorrow's Warriors is known for pushing the boundaries in jazz and are excited to be presenting the next generation of hotly tipped artists in partnership with the Albany.
Loucin is a London-based vocalist and songwriter with music rooted in jazz, neo soul and RnB, drawing on influences from artists including Erykah Badu, Hiatus Kaiyote, Cleo Sol and Jill Scott.
She began to express her love for jazz and swing as a vocalist in Leeds University's Big Band and continues to develop as an artist with Tomorrow's Warriors as lead vocalist in the Female Frontline, as well as backing vocalist for Poppy Ajudha and CHERISE.
Loucin's original project combines soulful vocals, unusual rhythms, and punchy horns; creating songs to dance to, vibe to or weep to. Having received funding from MOBO Help Musicians 2020, she went on to record and release her debut EP Anoosh and her music has been featured on Jazz FM, Soho Radio and Worldwide FM.
"Loucin has a way to evoke magic with her singing and composition. It's like having a one-on-one conversation whenever she performs." Gary Crosby OBE, Co-Founder/Artistic Director, Tomorrow's Warriors
---
About Tomorrow's Warriors
Tomorrow's Warriors is an innovative jazz music education and artist development organisation that was co-founded in 1991 by Janine Irons and Gary Crosby. It is committed to increasing diversity across the arts through jazz by focusing on young people, especially Black and female musicians, and those whose financial or other circumstances might lock them out of opportunities to pursue a career in the music industry.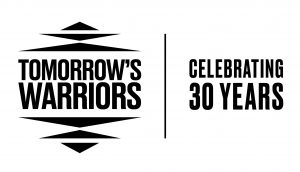 ---
We are constantly monitoring the government's COVID-19 guidelines. Should the situation change, the event will be postponed and bookers will be notified in regards to their options.
Supported by the Garfield Weston Foundation through the Weston Culture Fund